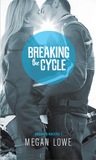 Breaking the Cycle
by
Megan Lowe
My rating:
5 of 5 stars
Spunky N Sassy Rating: 5.0
~~~~~~~~~~Tracy's ★★★★★ Review~~~~~~~~~~
The Ryan women have a curse over them and Reed Ryan won't subject any woman to that curse. In walks Bria Adams into his family's diner and she is someone that may make it worth the risk. Bria knows from personal experience that Racers are nothing but players and are not the type of men who know the word commitment. Is she willing to chance her heart for Reed? I loved this book and the start of this series. Reed is gobsmacked by Bria and her ability to do things to him and his family that no other woman ever has. I loved little Chris, he was just adorable. This is definitely a must read about family, love and taking chances.
View all my reviews