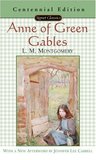 Anne of Green Gables
by
L.M. Montgomery
My rating:
5 of 5 stars
Spunky N Sassy Rating: 5.0
~~~~~~~~~~Tracy's ★★★★★ Review~~~~~~~~~~
Anne Shirley comes to Green Gables as an orphan to Marilla and Matthew Cuthbert, a brother and sister that need help on their farm Green Gables in Avonlea. They expected a boy but got a freckled face, red headed percoisus girl with a strong imagination. This book follows the struggles that Anne and everyone she encounters in Avonlea. It is a fun and heart warming story and one that is timeless.
Audio Narration was great and I listen to this book all in one sitting.
I received this audiobook as part of my participation in a blog tour with Audiobookworm Promotions. The tour is being sponsored by Post Hypnotic Press. The gifting of this audiobook did not affect my opinion of it.
View all my reviews